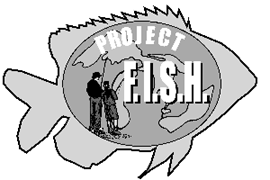 Project FISH
Friends Involved in Sportfishing Heritage
We need YOU !!!!!!!!!!!!!
What is Project FISH?
An education program for youth and families Sponsored locally by schools, fishing and conservation organizations, others interested in fish, fisheries, fishing A learning opportunity for youth to gain:
- Angling skills
- Understanding of aquatic ecology
- Tackle crafting skills
- Ethics and responsibility as anglers
- Understanding of fisheries management
Who is sponsoring Project FISH?
MSU Department of Fisheries & Wildlife, with grant support from the Great Lakes Fishery Trust - MSU Extension and Michigan 4-H Youth Programs Agency and organizational partners: MDNR Fisheries Division and MUCC.


Corporate Sponsors: Gander Mountain, and other equipment donors
Who is needed?
- Volunteers willing to instruct youth and families!
- Volunteers interested in working with schools
- Volunteers interested in working with stores to teach and sponsor youth clubs, (for example, with Gander Mountain stores)
- Volunteers who might connect local youth sportfishing clubs with fishing and conservation clubs!
- Volunteers -- willing to take youth and their parents on fishing charters as awards for their participation in local youth sportfishing clubs or in school programs
- Volunteers interested in being part of regional state training teams - training other adults in how to teach youth about fishing and fisheries.
If you are interested training programs are organizing NOW!
Contact: Mark Stephens -- Project FISH coordinator,MSU Dept of CARRS-- 517-432-2700 E-mail: info@projectfish.org