PROJECT FISH COMES TO MICHIGAN
There is a lot to be learned in a short weekend or a few 3 hour sessions of training. Project F.I.S.H. (Friends Involved in Sportfishing Heritage) will be in Michigan communities to educate interested teachers and volunteers on the fine art of fishing and the importance of caring for Michigan's vital aquatic resources. Each training session will have the same theme "Let's get kids to care for our aquatic resources by learning to fish".
Project F.I.S.H. is a mentor based community supported program that will involve many partners including schools, 4-H, sportfishing organizations, and mentoring groups within the community. Project F.I.S.H. is a Michigan State University, Department of Community, Agriculture, Recreation, and Resource Studies (CARRS) education program in cooperation with the Great Lakes Fishery Trust, the Michigan Department of Natural Resources, Michigan State University Extension and Michigan United Conservation Clubs. Our goal in Michigan communities is to educate interested teachers and volunteers with our very exciting and hands on activities and lessons and leave them with the materials and resources to get kids excited about fishing. Here are the main components of Project F.I.S.H.


Michigan Aquatic Ecology: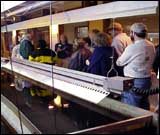 Learn about the things that make our aquatic ecosystems tick by using some very interesting activities involving our Great Lakes watersheds, invertebrates and neat sampling experiments designed to get you INVOLVED. Participants will be given a Pond and Stream Safari education kit for use in their programs. Additional resources and contacts will be given to teachers for follow up and continued support.


People and Fish: "How many fish are in that

pond and what effect do I have on them?" These are the types of questions that will come up in this fish management and ethics session. What is the difference between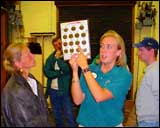 an ethic and a regulation? You'll learn this as well as come up with your own code of ethics. You may learn more about a person by exploring their tackle box. Find out about Great Lakes issues and human involvement, like commercial vs. sportfishing, allocation and game laws. You may even say "hmm" a few times. Catch a fish, put it on your shirt, permanently!


Tackle Crafting: This session will get you making the equipment you can use to catch fish. You will use what you learned in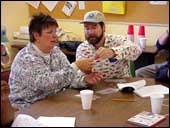 aquatic ecology to reproduce an artificial tool for your attempt at catching fish. Fly tying, jig making, snelling hooks and

creating worm/crawler harness are only a few ingredients of this part of Project F.I.S.H. . Each participant will be given the materials for making harnesses and the knowledge to make these and other look-alikes. In addition, resources for expertise and partners will be given to all participants. This class is a lot of fun.


Angling Skills: This class is the bread and butter. How do I use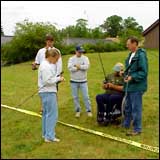 this fishing pole? Pop can casting and basic skills will lead to proficiency with a variety of rod and reel types.

Learn how to catch bass in your backyard and receive the game to teach you and your youth. You will also find the sources of materials to get kids actively involved with fishing, and they can do it in their own backyard. Take home a fishing rod for inspiration and a learning/teaching tool.


During your Project F.I.S.H. training, you will be introduced to a variety of individuals and organizations in your area to call on for assistance and expertise. Don't miss this chance to become involved in introducing this education style to your community.